Connecting the music industry
Good contacts are an important key to success. With Music2Deal you can connect with thousands of professionals in the music business. JOIN US and come introduce yourself, and your music or company. You can also find or offer songs for licensing or discover new artists, songwriters, producers, or vocalists for new projects. Create new deals and partnerships, locally and internationally.
See who's joining this exclusive music community and explore the benefits.
Music2Deal News
Dec 5, 2013 - TOM MORELLO (RAGE GAINST THE MACHINE) GUEST OF BRUCE SPRINGSTEEN AND THE E STREET BAND IN SOUTH AFRICA
Bruce Springsteen and the E Street Band will perform live for the very first time in South Africa on 26th, 28th and 29th January at the Bellville Velodrome, Cape Town and 1st February at FNB Stadium, Johannesburg.
Dec 4, 2013 - ELECTRO POP DIVA ALISON MOYET COMES TO SOUTH AFRICA FOR THE FIRST TIME !!
The inimitable and iconic diva, Alison Moyet comes to South Africa for the first time to celebrate the Emperors Palace's 15th birthday weekend on December 13th and 14th, 2013 and to the Liquifruit Amphithteatre in Paarl as part of the Culitvaria Summer Concert series...
Dec 3, 2013 - Big Concerts present and evening with Joss Stone
Big Concerts is pleased to announce soul singer Joss Stone will be performing for one night only at the Big Top Arena, Carnival City Johannesburg on 2nd April 2014.
Dec 3, 2013 - 1D World is the ultimate One Direction fan experience and it's coming to Cape Town in December 2013
1D World is the ultimate One Direction fan experience and it's coming to Cape Town in December 2013 Location: Shop 6272 (opposite Queenspark), V&A Waterfront, Cape Town Opening Date: Saturday 7th December 2013 Closing Date: Sunday 5th January 2014 #1DWorldCapeTown
Dec 3, 2013 - 30 Seconds to Fame - Online Music Competition
GO AHEAD AND TAKE YOUR SHOT AT FAME
Dec 3, 2013 - BREAKOUT MANAGEMENT ANNOUNCES "AN INTIMATE EVENING WITH SEETHER" TOUR IN SOUTH AFRICA AND THE 2ND PARKLIFE FESTIVAL
Breakout Management are excited to announce the return of SEETHER to South Africa for an Acoustic tour in November 2013
Dec 3, 2013 - BREAKOUT MANAGEMENT in association with DSTV presents the LINE-UP for the next PARKLIFE FESTIVAL
Breakout Management, in association with DSTV is excited to announce the line-up for PARKLIFE FESTIVAL at MARKS PARK in Johannesburg, on 24 November 2013
Dec 3, 2013 - Jmaxx Releases Hotly Anticipated New Album
International South African artist, Jmaxx, has finally released his long awaited new album, Kiss of the Spider. The Tate Music Group (TMG) signed artist's talent and versatility shines through in 'Kiss of the Spider'. From amorous ballads to catchy dance tracks – this album has something to offer al[...]
Nov 5, 2013 - Brandit offer 10% off great mobile apps to all Music2Deal members !
Brandit Portugal, recent new partners of Music2Deal Portugal, has welcomed their new partnership with this great offer of a 10% discount on Mobile apps to all M2D members.
Oct 21, 2013 - Music Industry Changes (Article by Allen Johnston)
Today's music business is heading rapidly toward entertainment industry structural changes, the laws and regulations we use for our everyday business are morphing into a totally new set. Greater interest in direct digital licensing among publishers, efforts to establish Pan-European licensing and th[...]
What our members are saying about Music2Deal
Video Tour: How This Music Community Works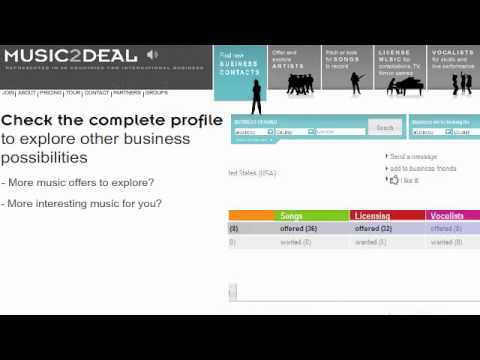 Registration
JOIN
now for
FREE!