Connecting the music industry
Good contacts are an important key to success. With Music2Deal you can connect with thousands of professionals in the music business. JOIN US and come introduce yourself, and your music or company. You can also find or offer songs for licensing or discover new artists, songwriters, producers, or vocalists for new projects. Create new deals and partnerships, locally and internationally.
See who's joining this exclusive music community and explore the benefits.
Music2Deal News
May 8, 2013 - Music Matters Conference 2013
Music Matters is the leading event of the music industry in Asia Pacific. International heavyweights of the branch are gathered here to share their knowledge with delegates and musicians. The Music Matters Conference takes place from May 22nd until 24th 2013 in Singapore.
May 8, 2013 - Facebook and LinkedIn Groups
You can find Music2Deal Groups on Facebook and LinkedIn now! You can share your offers and wanteds there and use it as an additional promotion channel.
May 8, 2013 - Music2Deal update
From now on you can use features that enhance login and networking!
Feb 27, 2013 - music streaming is increasing
Google challenges Spotify with its own upcoming streaming service
Feb 13, 2013 - With good news from Midem!
New collaboration in sight…
Jan 29, 2013 - New Update
You may already have noticed the changes on the Music2Deal Website that came along with our recent Update…
Jan 16, 2013 - Tips Music's Facebook Page Hits 1 Million Fans!
Talking about this milestone achievement, Tips Music's Business Head, Sahas Malhotra said- "TIPS Music has a vast and rich catalog of hits across multiple Indian languages and musical genres. Our efforts on Facebook have been focused at reviving ...
Jan 16, 2013 - Apple's iTunes debuts in India
According to a FICCI-KPMG Indian Media and Entertainment Industry Report 2012, the Indian music industry clocked 19 per cent year-on-year decline in sales of physical music which was compensated by a jump of 24 per cent year-on-year in digital music ...
Jan 16, 2013 - Unsigned Only - the International music competition
Unsigned Only is a unique international music competition geared toward solo artists, bands, and singers who are not signed to a major label record company.
Jan 15, 2013 - Meet us @ MIDEM
Music2Deal is represented at the MIDEM 2013 - from 26th to 29th January in Cannes
What our members are saying about Music2Deal
Video Tour: How This Music Community Works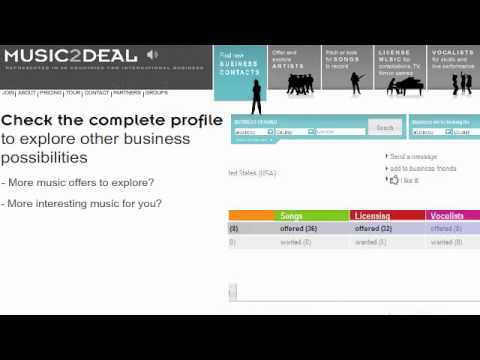 Registration
JOIN
now for
FREE!