Connecting the music industry
Good contacts are an important key to success. With Music2Deal you can connect with thousands of professionals in the music business. JOIN US and come introduce yourself, and your music or company. You can also find or offer songs for licensing or discover new artists, songwriters, producers, or vocalists for new projects. Create new deals and partnerships, locally and internationally.
See who's joining this exclusive music community and explore the benefits.
Music2Deal News
May 8, 2013 - Music Matters Conference 2013
Music Matters is the leading event of the music industry in Asia Pacific. International heavyweights of the branch are gathered here to share their knowledge with delegates and musicians. The Music Matters Conference takes place from May 22nd until 24th 2013 in Singapore.
May 8, 2013 - Facebook and LinkedIn Groups
You can find Music2Deal Groups on Facebook and LinkedIn now! You can share your offers and wanteds there and use it as an additional promotion channel.
May 7, 2013 - Spot Festival 2013
Spot Festival 2013 is over. The 19th Spot festival was a tremendous success with more than 100 concerts, seminars and happenings.
May 7, 2013 - Music2Deal Update
Our team was busy preparing the announced changes: In the coming week there will be an update on Music2Deal! It features enhanced networking and usability tools.
May 7, 2013 - Northside Festival
Nortside Festival takes place in Aarhus June 14.-16. It's almost sold out, so hurry up if you want to make sure get a ticket.
Mar 27, 2013 - Neil Young & Crazy Horse
The Past - The Present - The Future Scandinavian Tour Dates
Mar 27, 2013 - Spot Festival in Aarhus, Denmark May 3.-4.
If you haven't signed up or bought tickets yet, you better do it now.
Mar 27, 2013 - Bowie is back with brilliant new album
✩✩✩✩ out of five from Rolling Stone
Mar 13, 2013 - SXSW
South By Southwest
Mar 13, 2013 - Facebook > Itunes > Justin Timberlake
After seven years, JT's back with The 20/20 Experience.
What our members are saying about Music2Deal
Video Tour: How This Music Community Works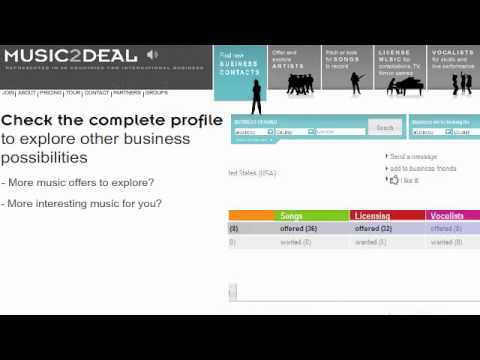 Registration
JOIN
now for
FREE!