Connecting the music industry
Good contacts are an important key to success. With Music2Deal you can connect with thousands of professionals in the music business. JOIN US and come introduce yourself, and your music or company. You can also find or offer songs for licensing or discover new artists, songwriters, producers, or vocalists for new projects. Create new deals and partnerships, locally and internationally.
See who's joining this exclusive music community and explore the benefits.
Music2Deal News
Dec 10, 2013 - New Update is coming soon!
In January, we'll add some great new features to the community!
Dec 4, 2013 - Interview with Thomas Rodenbach
Thomas Rodenbach, a member of the Music2Deal community, has received a recording deal due to the support of Music2Deal. We have previously reported about him and now he has taken the time to answer a few questions about his new album "Stars" and Music2Deal.
Dec 4, 2013 - Music2Deal Showcase 27th October 2013
On 27th October 2013 Music2Deal UK and Malta held a music showcase on the tiny island of Gozo in the Mediterranean.
Nov 19, 2013 - Introducing Red Bull Music Academy 2014
The Red Bull Music Academy is a world-travelling series of music workshops and festivals: a platform for those who make a difference in today's musical landscape.
Nov 19, 2013 - Bang & Olufsen and Spotify
Design, HI-FI and music teams up in a new launch
Nov 19, 2013 - How the Danes Hit The City
Spot on Denmark in Eindhoven
Nov 18, 2013 - Interview with Steve Bootland (Music2Deal representative for Portugal)
Steve Bootland, our new representative for Music2Deal Portugal, is the Brand Manager of the company "The Portugal Music Scene" which is an International Development/ Consultancy & Management Service for Portuguese acts. Now he has taken the time to answer a few questions about his experience, Mus[...]
Nov 14, 2013 - New Online Degree Programs from "Berklee College of Music"
Berklee Online, Berklee College of Music's award-winning extension school, is now offering Bachelor's degree programs online.
Nov 14, 2013 - Brandit offer 10% off great mobile apps to all Music2Deal members!
Brandit Portugal, recent new partners of Music2Deal Portugal, has welcomed their new partnership with this great offer of a 10% discount on Mobile apps to all M2D members.
Nov 6, 2013 - SPOT On Denmark in Eindhoven
On November 3. SPOT On Denmark visits the Dutch Festival "Hit The City" in Eindhoven. Danish Performers includes Go Go Berlin, Schultz and Forever, Ocean View and Foreign Resort.
What our members are saying about Music2Deal
Video Tour: How This Music Community Works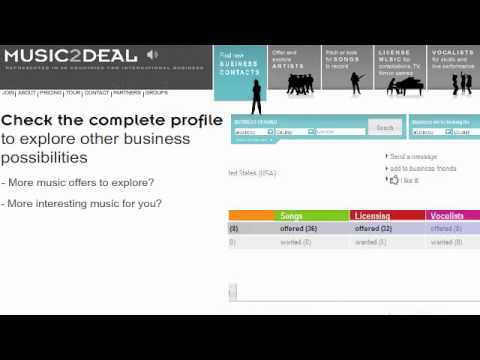 Registration
JOIN
now for
FREE!