Connecting the music industry
Good contacts are an important key to success. With Music2Deal you can connect with thousands of professionals in the music business. JOIN US and come introduce yourself, and your music or company. You can also find or offer songs for licensing or discover new artists, songwriters, producers, or vocalists for new projects. Create new deals and partnerships, locally and internationally.
See who's joining this exclusive music community and explore the benefits.
Music2Deal News
May 21, 2013 - Business Opportunities
Take a look at some of the new business opportunities!
May 16, 2013 - Interview with Producer Stuart Epps (Elton John, Led Zeppelin, Chris Rea etc.)
Our UK representative Richard Rogers exclusively interviewed the music industry heavyweight Stuart Epps.
May 14, 2013 - Exclusive Partnership with Music2Deal.com for Japan
Music2Deal features exciting new international partners we'd like to introduce to you weekly. This week: All Access Today Japan represents Music2Deal in Japan.
May 6, 2013 - Facebook and LinkedIn Groups
You can find Music2Deal Groups on Facebook and LinkedIn now! You can share your offers and wanteds there and use it as an additional promotion channel.
May 6, 2013 - Music Matters Conference 2013
Music Matters is the leading event of the music industry in Asia Pacific. International heavyweights of the branch are gathered here to share their knowledge with delegates and musicians. The Music Matters Conference takes place from May 22nd until 24th 2013 in Singapore.
Apr 30, 2013 - Today: Music2Deal update!
The Music2Deal update was this morning, from now on you can use features that enhance login and networking!
Apr 22, 2013 - Music2Deal Update
Our team was busy preparing the announced changes: In the coming week there will be an update on Music2Deal! It features enhanced networking and usability tools.
Apr 22, 2013 - Music2Deal – connecting the industry
We constantly look for representatives across the globe to enhance our international network. Now we are happy to announce that we have new partners in six exciting countries!
Apr 8, 2013 - There is something going on at Music2Deal...
No springtime lethargy at Music2Deal! The team is working on an update for the community!
Mar 25, 2013 - Update Sync Summit
Here are the latest news from Sync Summit NY, the event exclusively focused on networking, making deals and discussing issues crucial to the business of music licensing. Taking place at Soho House NY, June 19-20, Sync Summit is designed to give you access you to people,ideas and services crucial to [...]
What our members are saying about Music2Deal
Video Tour: How This Music Community Works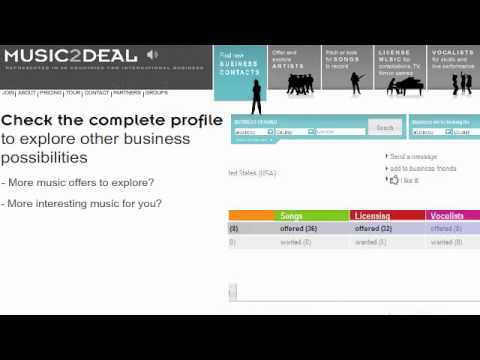 Registration
JOIN
now for
FREE!