Connecting the music industry
Good contacts are an important key to success. With Music2Deal you can connect with thousands of professionals in the music business. JOIN US and come introduce yourself, and your music or company. You can also find or offer songs for licensing or discover new artists, songwriters, producers, or vocalists for new projects. Create new deals and partnerships, locally and internationally.
See who's joining this exclusive music community and explore the benefits.
Music2Deal News
Feb 26, 2014 - NOWE MOŻLIWOŚCI naszego serwisu dzięki wielkiej aktualizacji
Dzięki najnowszej aktualizacji, Music2Deal daje swoim użytkownikom wiele nowych dróg nawiązywania kontaktów i handlowania muzyką.
Feb 26, 2014 - Can You Hear Your Brand? - Article by Lars Deutsch
Audio branding, also known as sound branding or sonic branding, is the use of sound to reinforce brand identity. Sound branding is increasingly becoming a vehicle for conveying a memorable message to consumers by taking advantage of the powerful memory sense of sound. The audio logo is one of the to[...]
Feb 26, 2014 - New music requests
Due to the new update in January a lot of new interesting music requests were published in our community. Now we want to present you a list of them, which might be interesting for you.
Feb 12, 2014 - Zaktualizuj swój profil, żeby sprawdzić kto nadaje się do twojego projektu!
Jeśli chcesz sprawdzić kto spośród blisko 10,000 sprawdzonych zawodowców w branży nadaje się do twojego projektu, musisz zaktualizować swój profil. Staniesz się wówczas częścią społeczności korzystającej z pierwszego w świecie narzędzia kojarzącego partnerów w branży muzycznej.
Feb 12, 2014 - Matchmaking Programme @ Musikbiz Lounge & Congress podczas Miedzynarodowych Targów Muzycznych 2014 we Frankfurcie
Targi Muzyczne we Frankfurcie nad Menem są od 25 lat najważniejszą międzynarodową imprezą targową dotyczącą instrumentów, wydawnictw nutowych, produkcji muzycznych i kontaktów biznesowych oraz bezsprzecznie najważniejszym miejscem spotkań producentów instrumentów muzycznych. Przez cztery dni produc[...]
Feb 12, 2014 - Kolejna współpraca między użytkownikami Music2Deal!
Hellmut Wolf z Australii i Chalam z Indii skontaktowali się przez Music2Deal. Rozpoczęli wspólpracę i możesz posłuchać ich pierwszego wspólnego kawałka.
Jan 27, 2014 - LA Events 2014 - Discount for Music2Deal readers!
Down below you can find some events where you can be part of, because there is a 10% discount for all Musi2Deal readers. So, in April 2014 MUSEXPO, Worldwide Radio Summit and the Global Rock Summit will take part in Los Angeles. Click on the links and register to be part of the fantastic events.
Jan 27, 2014 - "Who's Who in A&R in Germany 2014"
Out now! The brand new updated 36 page listing of "Who's Who in A&R in Germany 2014" published by "Songs Wanted" includes contact addresses of all major record companies and small labels, A&R managers (telephone extensions, e-mail) plus the artists that they handle. Costs € 40,- or US $ 40.- on p[...]
Jan 15, 2014 - Countdown for the new Update
Only a few days are left. In the last week of January Music2Deal launch the update including the world's first matching tool for the music industry
Jan 15, 2014 - Another success message through Music2Deal!
Since the beginning of this month we know that there is another successful "deal" due to the support of Music2Deal. This time, the "deal" succeeded between the Costa Rican composer Franklin Ortiz and the Indian artist "Kuhoo".
What our members are saying about Music2Deal
Video Tour: How This Music Community Works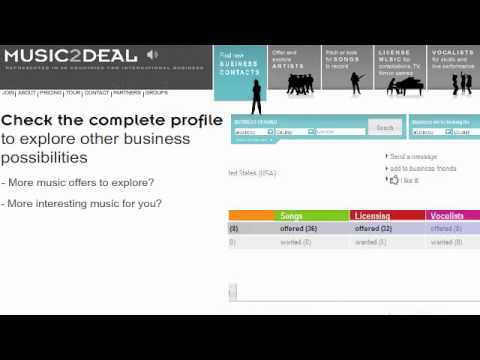 Registration