Connecting the music industry
Good contacts are an important key to success. With Music2Deal you can connect with thousands of professionals in the music business. JOIN US and come introduce yourself, and your music or company. You can also find or offer songs for licensing or discover new artists, songwriters, producers, or vocalists for new projects. Create new deals and partnerships, locally and internationally.
See who's joining this exclusive music community and explore the benefits.
Music2Deal News
Dec 3, 2013 - New Update is coming soon!
On Jan 14th, we'll add some great new features to the Community!
Dec 3, 2013 - Interview with Thomas Rodenbach
Music2Deal user Thomas Rodenbach, has signed a recording contract after being discovered on Music2Deal. We have previously written about him. Now, Thomas has taken the time to tell us a bit about his new album "Stars" and Music2Deal.
Dec 3, 2013 - Music2Deal Showcase in Malta
In October, Music2Deal UK and Malta have organised a showcase on the tiny island Gozo in the Mediterranean Sea.
Nov 19, 2013 - New Online Degree Programs from "Berklee College of Music"
Berklee Online, Berklee College of Music's award-winning extension school, is now offering Bachelor degree programs online.
Nov 19, 2013 - Interview with Steve Bootland (Music2Deal representative for Portugal)
Music2Deal representative Steve Bootland talks about his experiences, Music2Deal and his work as a representative.
Nov 19, 2013 - A story by Music Alley: YouTube warns creators to 'think twice' about buying views
(By Stuart Dredge) People have been buying views on YouTube for years, just as they've bought Facebook Likes, Twitter followers, SoundCloud plays or (back in the day) Myspace friends and/or plays.
Nov 5, 2013 - Brandit offers 10% off great mobile apps to all Music2Deal members!
Brandit Portugal, new partner of Music2Deal Portugal, has welcomed their new partnership with this great offer of a 10% discount on Mobile apps to all M2D members.
Nov 5, 2013 - ICON & Music2Deal proudly present a special interview with Alan Parsons
Alan Parsons, the British musician and producer, worked as assistant engineer on The Beatles' Abbey Road and Let It Be albums (not to mention producing Pink Floyd's Dark Side of the moon!).
Nov 5, 2013 - A story by Music Alley: Is the album dead in the US? That's the wrong question…
(By Stuart Dredge) Is the album dead, wonders an article in the Guardian about the latest music sales figures from the US. "It seems that the 10-song, artist-statement format that originated with the advent of the 33⅓ long player in the late 1940s could itself be nearing the end of the line," sugges[...]
Nov 5, 2013 - Music Industry Changes (Article by Allen Johnston)
Today's music business is heading rapidly toward entertainment industry structural changes, the laws and regulations we use for our everyday business are morphing into a totally new set.
What our members are saying about Music2Deal
Video Tour: How This Music Community Works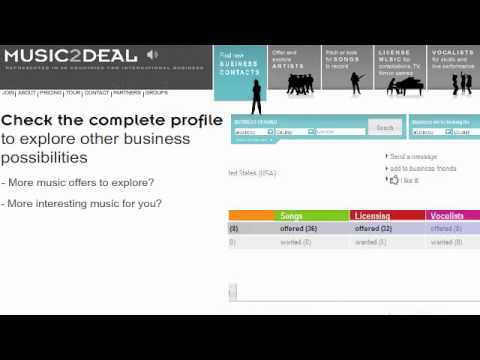 Registration
JOIN
now for
FREE!